About High Street Concerts
Lyons' volunteer-run non-profit concert series was founded in July 2003. Its mission is to present national and local acoustic and Americana acts in an intimate community setting. Since its founding the shows have continued to grow in popularity to where these shows now often sell-out in advance.
These monthly concerts (held October-May) are held in the cozy, smoke-free setting of Rogers Hall in Lyons - a venue which one attendee described as: "like they were playing in my living room."
In addition to music from nationally-recognized bluegrass/folk acts, we offer home-made baked goods; coffee, tea, and hot chococate; and ice-cold Izze and Italian sodas. All at reasonable prices.
High Street Concerts is generously supported by a number of local sponsors.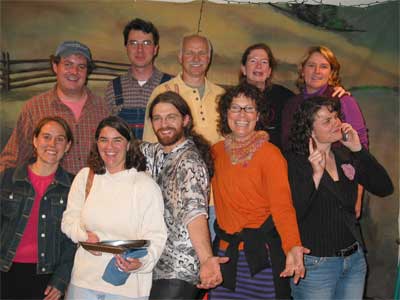 (The High Street volunteers after the November 2004 show)
Contact Us
To learn more about our concert series, or to become a volunteer or sponsor please email email Info@HighStreetConcerts.com or call 303-823-6433.
"Salami for Tsunami" Benefit
High Street Concerts joined other Lyons individuals and businesses in donating items to the "Salami for Tsunami" benefit held on Wednesday, March 30 at Oskar Blues in Lyons. The unique fundraising event raised money for victims of the recent tsunami catastrophe in southern Asia.
We donated two pairs of half-season passes for the 2005-2006 season (2 sets of 8 tickets). Each pair of these specially created half-season passes is worth approximately $100.
Among the approximately 70 items in the silent auction were: lessons from Lyons musicians Caleb Roberts, Eric Thorin, and Jeff Hamer; autographed CDs from Open Road, Buckskin Stallion, and the Supersuckers; tickets to Planet Bluegrass festivals; and a gift certificate to Woodsongs Lutherie.
Promo Videos
Check out a 2-minute promo videos we put together using live footage of recent concerts and some behind-the-scenes photos.
Promo Photos
Here are several high-resolution images from recent shows. Feel free to use these however you like.
In the Press
High Street Concerts has been featured in numerous Colorado publications, including The Daily Camera, The Denver Post, The Old Lyons Recorder, Pow'r Pick'n, The Marquee, and the Longmont Times-Call. Here are some recent articles about our shows: